Filmmaking Trick or Filmmaking Treat?
Let's say, metaphorically, you are knocking on the door of MasteringFilm, hoping to get some sort of goody that makes you a better filmmaker.  We open the door and naturally say 'Trick or Treat?'
Being the typical trickster, you say 'Both.'
We nod in approval… as we like your style, and we have just the thing for you.  The Filmmaker's Book of the Dead offers countless neat tricks and treats to help you become a better horror filmmaker.  It's also great for anyone just looking to be a better filmmaker, as much of the content translates to other genres.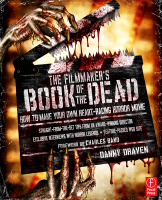 Simply comment below that you'd like 'both a trick and treat' and you'll be entered to win a free copy of The Filmmaker's Book of the Dead.  To be eligible, you must enter by 12:01 am EST November 1, 2011.  Full contest rules here.
Also, everyone gets a treat.  You are welcome to a 30% discount off any of our titles when purchased directly through the Focal Press website.  Simply use discount code STORY at checkout.
Related posts: