The 'I am a Hack' contest!
In writing, hack tends to be a dirty word.  It shouldn't be. In fact, it's a badge of honor.  Even accomplished screenwriters who have had their work optioned or produced think of themselves as Hacks.
A Hack is a writer who understands how truly difficult it is to write a screenplay. 
A Hack knows that the first draft always sucks, and is only ever a starting point.
A Hack knows there is always room for improvement in their writing.
A Hack hacks away at making their script better.  That is what makes a hack, a Hack.
That's why we published Screenwriting Tips, You Hack.  In the form of useful tips, it gives you practical advice all aimed at making you a better screenwriter.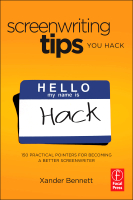 With that in mind, participate in the 'I am a Hack' contest!  Simply tweet the following, and you will automatically be entered to win $100 worth of Focal Press books:
I want the @focalpress book by @xanderbennet 'Screenwriting Tips, You Hack' because I am a Hack!  http://bit.ly/n1MU4I #iamahack
If you don't have a Twitter account, you can simply add a comment below stating "I am a Hack!'
To be eligible, you must enter by November 30, 2011.  See full contest rules here.
Related posts: